Bachrus DCC rolling road Speedometer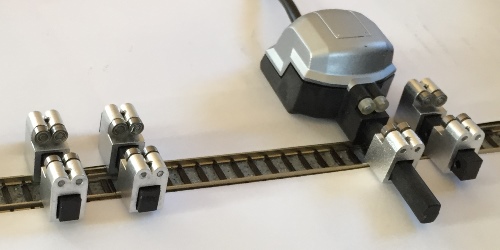 The Bachrus Speedometer works with a rolling road setup, and DecoderPro software to offer precision measurement of the speed of your loco throughout its range, but is no longer available..


The speedometer uses the precision of a microcontroller to measure the rotation of the wheels of your loco. The Reader rollers transmit rotation through a sensor to the computer, where the software scales that and presents it in an easy to read format.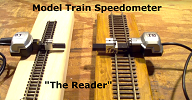 Our package is offered for HO and N scales, and is a bundled matching set that includes the speed Reader and all the elements needed to set up a rolling road for your locos.
Linked with JMRI DecoderPro, you can set up the speed of your loco easily on your bench.
This shows the Speedo console in DecoderPro.
Speed is scaled for your loco - here British N - and displayed in scale miles per hour.

Here the automatic Profile capability has nearly completed tracing the performance of the UK Class58 loco depicted below,
creating a Forward and Reverse trace of speed in Miles per Hour against the 28 DCC fundamental speed steps. This loco could use some adjustment!

See the Bachrus website for helpful videos showing setup and usage, and for more product details.
Our Bachrus DCC Speedometer sets include all the components that are needed for a complete setup:
DCC Reader, with connection for a USB link to your computer running JMRI DecoderPro software
Three axle running stand set; with the Reader, provides support for 4 powered axles to revolve freely
Four axle running stand set; provides support for another 4 powered axles to revolve freely
Stirrup straight rail sections to support non-powered wheels, tender, etc.
We regret that these sets are no longer available.
Seen here measuring an N Scale TGV loco, using 3 saddles and the reader
and here measuring an N Scale UK Class 58 loco, using 4 saddles and the reader
The middle axle of the front bogie (truck) in this case is not supported.