DCC Control and Programming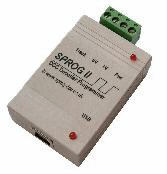 Controlling model railroad operation increasingly uses DCC, and the SPROG DCC device is the ideal solution for programming and maintaining your fleet of DCC-equipped locomotives, in any scale from Z to G!
With the industry's most comprehensive support for decoders from all the leading manufacturers, SPROG II and our new SPROG3 provide a one-stop source for setting up and running any DCC locomotives.
Follow the
SPROG DCC
link for full details, and to order your DCC programming solution.
DCC Programming and Control starting under $100!
DCC Decoder Installation
Installation of the decoders into many locomotives is now a straightforward process, with more "drop in" decoder models available from several vendors. For those more unusual installations, or just to take the task on for you, we offer decoder installation as a service.
Follow the link to find out more, or just to see some step-by-step examples as well.
Model railroads come in many sizes, and at the BBM Group we specialize in N Scale, with a track gauge of Nine millimetres.
The second most popular size in model rail today, "N" trains run on track with a gauge of 9mm, available from many vendors in ready-to-run and customizable form.
However, strangely enough, around the world there are three different sizes or scales in use for "N" gauge! In the USA and related markets, and in most of Europe, the scale is 1 to 160, while in Japan they adopted 1 to 152, and in the UK it is 1 to 148.